Shower Seats – Behind the curtain
For those who find it difficult to get in or out of the shower or stand for long periods of time, a shower seat or shower chair can be invaluable.
Shower seats for everyday use
It may simply be that you feel a little unsteady on your feet when in the shower. Let's face it, few of us are comfortable standing on slippy wet tiles, even with a handrail to grab if we feel a little unstable. For some of us, perhaps you would just like to be able to sit down and relax while shaving your legs in the shower?
Shower seats for seniors
If you have an elderly relative, whether he or she lives alone or not, and you worry about him or her taking a shower, then a shower seat can give both of you some peace of mind. You can help a loved one avoid accidents in the shower or bathtub by introducing them to the idea of using one of the many of types of shower seats for sale.
Shower seats for the disabled
There are some of us who just need a little help when taking a shower, whether because of a disability, either a temporary handicap (e.g., a broken bone) or a more permanent infirmity. Again having a seat in the shower can help.
Note that if you are purchasing a medical shower chair for someone with a permanent disability, make sure that it complies with ADA regulations and that it is accessible from a wheelchair. If this is the case, a transfer seat or bench would be invaluable as it allows the bather to sit on one side of the seat and slide over into the tub or shower.
Shower chairs offer a greater feeling of security for both the disabled and elderly bather. Some models come with a chair back, armrests, and padding for a more comfortable shower experience.
Shower seats for babies
There are shower seats for adults and shower seats for children, although the majority of infant or pediatric chairs are designed for the bathtub. Some chairs may have adjustable height, so parents don't have to be bent over or on their knees.
Clearly, these higher chairs need to be on a flat surfaced shower and safety is paramount. As a reminder never leave young children unattended in or near water, drowning can occur all too quickly.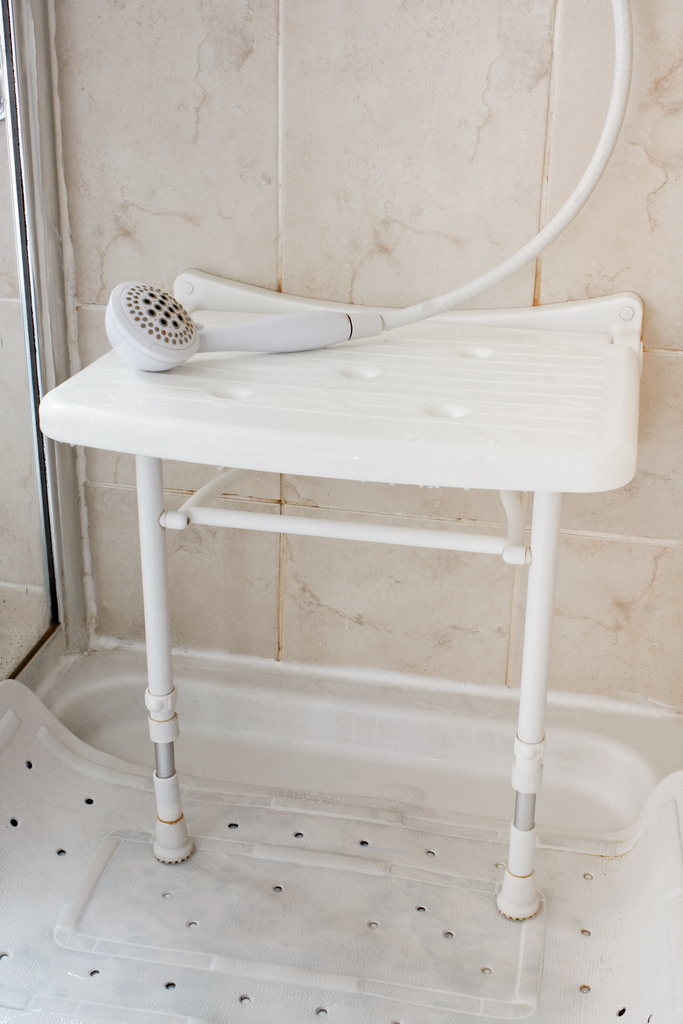 Buying considerations
Seat material
Whether they are made of plastic with metal legs (aluminum or stainless steel), or teak wood, the seat edges should be rounded and the seat comfortable to sit on for the duration of your shower.
Also, if you purchase a plastic shower seat with adjustable metal legs, it's wise to buy a sturdy one with legs that won't collapse and cause injury – that defeats the objective of making the whole shower experience safer.
You will also need to consider the composition of the chair feet. Most are rubber or plastic feet, while some have suction cups at the end of the legs. However, if your shower or tub has a textured finish this suction-cup type of foot might not stick to the floor properly and render the seat unstable.
Shower seat weight limits and height range
Make sure that the seat you buy will withstand the weight of the user – most manufacturers will give a weight limit for their product.
They will also give a height range, which can be very important, especially if you have a smaller person using the seat.
Shower seat dimensions
One thing to be aware of – you should carefully measure the dimensions of your shower before you purchase a seat or chair – you don't want to make the experience less enjoyable by choosing one that is too big to fit comfortably within the dimensions of your shower space.
Also available are expanding chairs to accommodate larger individuals in comfort.
How to use a shower seat
Types of shower seats
There are so many different types and price ranges to choose from that it might be difficult to pick the perfect one for your needs.
Freestanding seats come in many different finishes and sizes.
Shower seats with or without back or armrests
Basic shower seats without a back or armrests are probably the cheapest option and a usually very simple stools. Some of them have handles at the sides for a greater sense of security. However, many of these seats are made of rigid plastic and may not be very comfortable for someone who likes or needs to take a long shower.
Several models have slatted seats for easy water drainage, a small cutout area to hold a flexible shower head, or a large removable cutout to enable the user to clean private areas.
Cushioned shower seats
Stools similar to those mentioned above but with padded seats offer extra comfort and a greater feeling of stability. Most of these seats are perforated to allow the water to drain away quickly.
Adjustable and folding seats
Some seats are free standing, while others can be made a permanent fixture in the bathroom by attaching them to the wall (ADA height standards may apply).
There are also foldable seats that will fold up out of the way when they're not needed, even L-shaped seats that will fit comfortably into the corner of your shower – and some of them are also able to fold down when not in use. If you buy a folding shower bench, make sure that the hinges are smooth and functional before putting it to use.
Wood shower bench
If you prefer a seat with a more elegant appearance, you might want to consider one constructed from teak wood which is highly resistant to water — and many models come with a lifetime warranty. While usually more expensive, these designer shower seats give the shower a more elegant spa look, especially when compared to the plastic and metal versions, which in contrast can appear institutional and no-frills.
Sliding seat
Another option would be a shower chair with a sliding seat – also known as a 'transfer bench' which sits with one set of legs inside the tub or shower and the other set of legs outside. The individual sits on the outer side of the chair and slides across so that he or she is inside the tub or shower. Of course, a helper would probably be advisable in this scenario if the individual is very infirm.
Swivel seat
Some transfer benches have a swivel seat which will turn a full 360º in 90º increments, locking into place when the desired position is reached. Again, some people may need a little help with these initially until they are comfortable using them.
Rolling shower chair
If none of the about options are feasible, you might want to consider a rolling shower chair. These are lightweight wheelchairs with swivel wheels that can be rolled into any shower that is level with the bathroom floor. Most are constructed of aluminum to be rust resistant.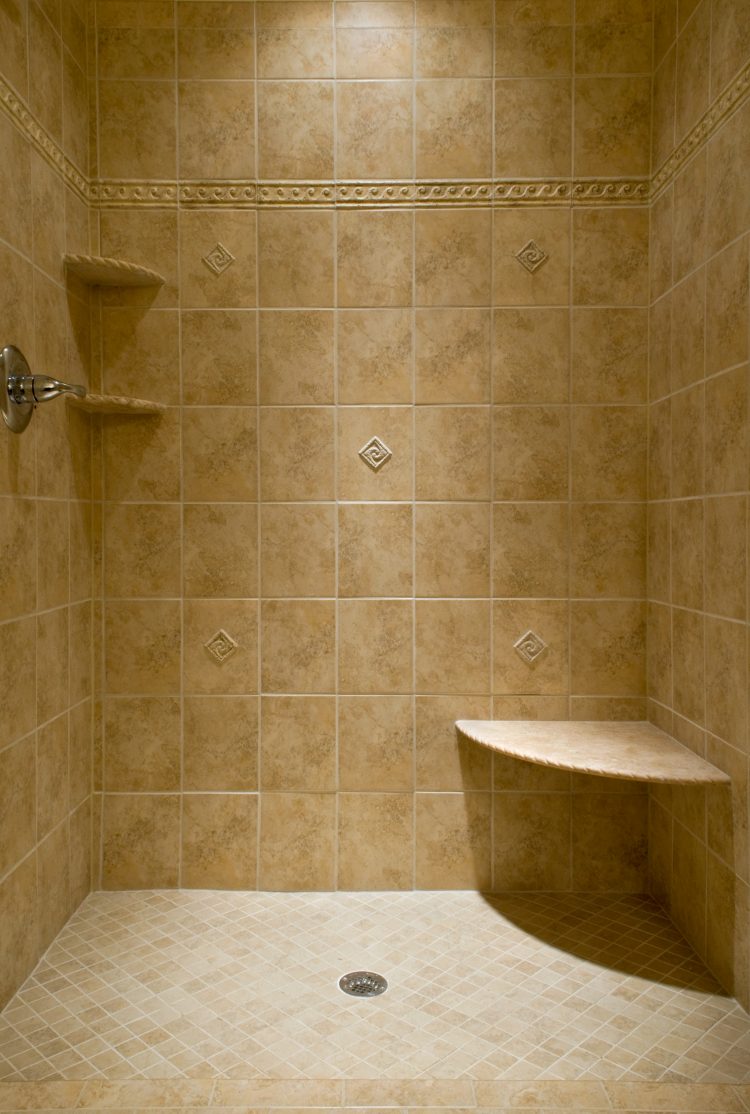 How much do they cost and will Medicare cover them?
The cost of a shower seat varies greatly. While some of the simple stools are under $30, the more complex chairs can sell for over $500. For some people, the price may be a consideration, and if they are on a fixed income or Social Security, they may expect that Medicare will reimburse them for at least some of the cost.
Unfortunately, Medicare does not consider bath/shower chairs to be 'durable' medical equipment (HCPCS code E0240). Therefore if you are elderly or disabled and are denied coverage for your shower seat, you will have to file an appeal and provide a letter from your doctor stating that a shower seat is a medical necessity for your safety. If you have health insurance, you will need to check with your provider regarding coverage.
Conclusion
As you can see, there are various seats on the market, so whatever reason you need a seat, whether for safety or support or convenience or leisure, there are sure to be some suitable shower seats you can try.